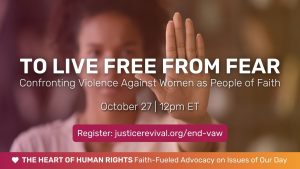 Join Justice Revival, a leading Christian voice for human rights, on October 27th at noon Eastern as we take on the most ubiquitous human rights crisis in the world: violence against women. You'll hear from leading experts about a crisis of injustice that claims four lives each day but rarely makes headlines in this country. Experts include:
• Dr. Indira M. Henard, DSW MSW, Executive Director of the DC Rape Crisis Center
• Prof. Francisco Rivera Juaristi, Professor and Director, International Human Rights Clinic at Santa Clara Law
• Rev. Dr. Marie Fortune, Founder of the FaithTrust Institute
Learn how you can stand in solidarity with survivors by calling for laws and policies that respect their dignity and protect their lives. You can play a part in ending the violence and demanding accountability and change.
Learn More »