Generations of Black women leaders have made powerful arguments in support of the Equal Rights Amendment. Everyday women face discrimination and are treated differently because of their sex. In 1923 the ERA amendment was proposed. On March 22, 1972, the Equal Rights Amendment was passed by the U.S. Senate and sent to the states for ratification. First proposed by the National Women's Party, the ERA was created to provide for the legal equality of the sexes and prohibit discrimination on the basis of sex. This amendment aims to create more opportunities for many women across the globe and has helped uneducated people….
You can read the full essay here.
This is Angelina's presentation, in video format
"Never the Same"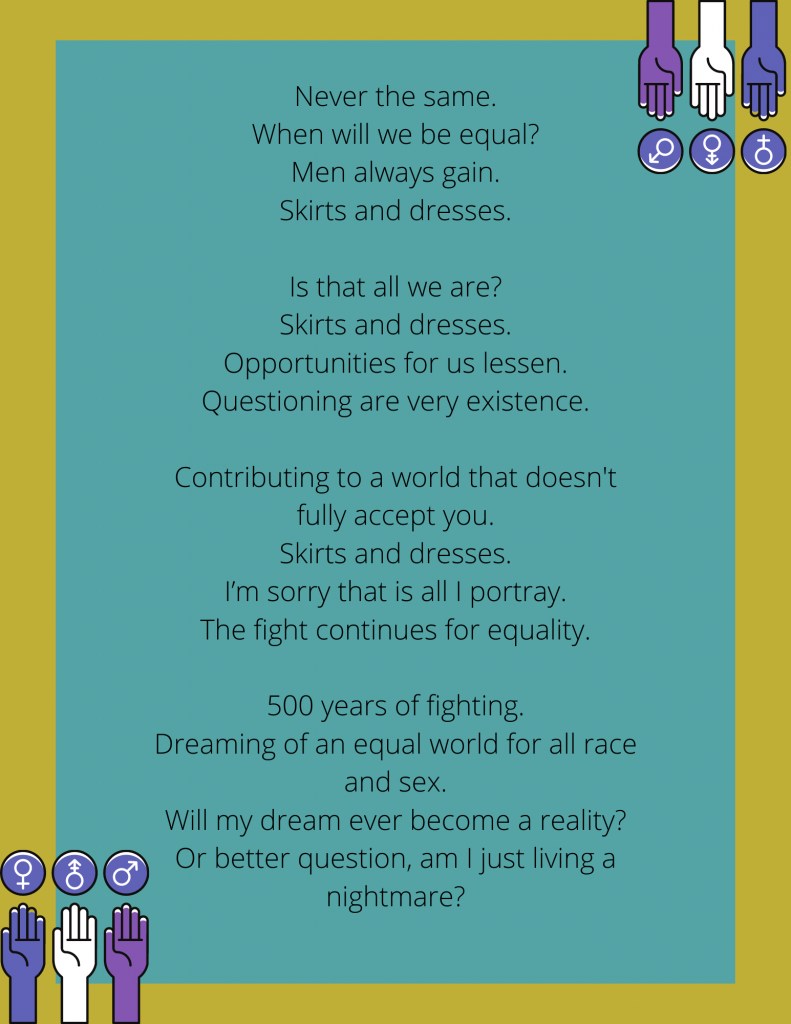 ---
My name is Angelina and I am a 15-year-old student who currently attends SSICP High School. I enjoy many things such as acting and dancing. I was born in the suburbs but I grew up In Chicago. When I moved I immediately noticed a change in my surroundings and now have a love-hate relationship with this city. In my spare time I try to do as much as I can to create a more peaceful and safe environment for all, especially for the new generation ahead of us.
Connect and Follow Us
Twitter: @4womensequality and @eracoalition
Instagram: @fundforwomensequality and @eracoalition
Facebook: https://www.facebook.com/fundforwomensequality
Resources:
Video on the ERA: https://www.youtube.com/watch?v=y-s61h1FH2E&t=1s
History of the ERA: https://www.eracoalition.org/the-amendment
We are the Fund for Women's Equality: https://youtu.be/8ogt45BN_SY